Dear all,
It is my third Pi conencted to AM and I realized I totally forgot the setup I made several months ago.
So for all of us (and for me to have this procedure somewhere
), I share here the steps to follow.
If you are not familliar to Linux, be careful to do not destroy your AirPlayer image. We will use a sudo command which grant you the administrator priviledges. In any doubt exit wihout saving the file.
If you are not sure of you, please do not follow this tutorial
The problematic is simple : either the screen orientation in our cockpit is portrait and we need to rotate the Pi output to have the AM gauges in a vertical manner or the screen resolution taken by default is not the good one your screen is able to support (or both)
After having connected your(s) Pi(s) , they are discovered by AirManager Desktop and see like this (for my setup)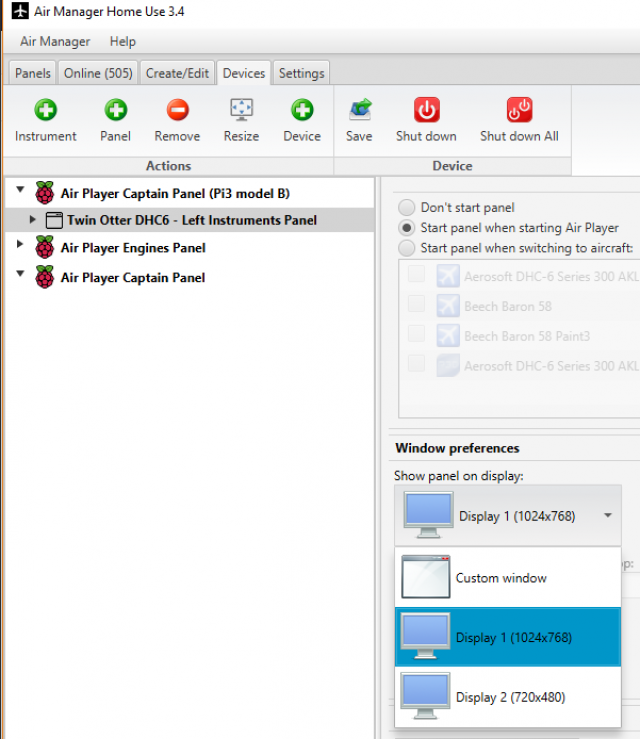 In Air Manager Devices tab, click on the Raspberry fruit icon and note the IP ADDRESS assigned to your Pi on your local network. It should be something like 192.168.XXX.XXX
Open a secured telnet session (SSH tool)
Under Windows 10 it is:
Menu Start , type CMD <enter>
Under Mac open a Terminal
Under Linux your are in
then in the "Command Window", type
(the default raspberry user is pi and the password is .... raspberry)
Now you are logged in your PI, issue the command (to edit the configuration file):
The sign # is a comment and forbid the parameter value to be taken. To activate the one you want, just remove the # and save the file.

I first, remove the # to force the HDMI output (maybe not needed in your setup but wihout that, I got a blank screen)
https://elinux.org/RPiconfig#Video_mode_options
In the video settings, we see that the resolution I need is : 1280x1024 and requires hdmi_more=35 in the CMT group
Thus, the section hdmi_group becomes for me :
The engines screen I have aside is vertical and have display_rotate=1 instead.
Exit the editor <CTRL><X>
And exit the SSH session (type exit <enter>)
From AM, select the Pi you just edit and shutdown it using the top Shutdown button
Restart your Pi, AM auto detects it when back live
Select the Pi entry, it displays now the targetted display resolution 1280x1024 with your screen orientation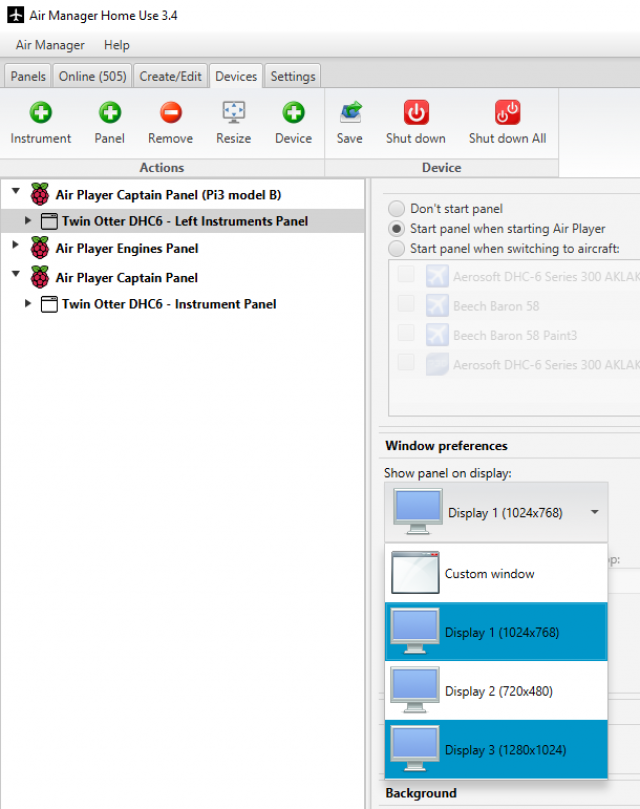 I hope it will help. It is quite sure for me in several months if I need to add another Pi to my setup
Bye
Philippe